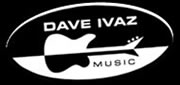 Dave Ivaz Orchestra - Corporate Events & Charity Fundraisers



Have Your Corporate or Charity Fundraiser Guests Seen it All Before?

Treat them to something completely different. Fresh. Fun. Fantastic. Music is the engine that drives your message home, whether you're motivating employees, networking with potential customers, or planning a special event to raise needed funds for a special cause.

Acclaimed multi-instrumentalist Dave Ivaz has performed with international headliners, in major Broadway productions, and on television. Now corporate executives and event planners on the cutting edge rely on Dave's expertise for one-of-a-kind, extraordinary events and fundraisers.


Corporate Excellence... Out-of-The-Box Ingenuity.

When you choose Dave Ivaz Music you work directly with Dave, the president of the company. And you choose inventive, forward thinking from a savvy entertainment industry professional. From initial planning and throughout each stage of the process, Dave works with you and your team to make sure your entertainment is a perfect fit for your corporate event or charity gala's theme and budget.


Make it a Charity Fund-Raiser — Not a Fund-Spender.

The non-profit sector has never been tougher, and we understand that. With Dave Ivaz Music you get high-end entertainment at an affordable price point that allows you to keep more of your event's proceeds for your important cause. Your guests will be calling yours the event of the season—and you, as planner, will delight your charity management for delivering the hottest new sound at an unbeatable price.


More Choices.

We'll bring your event concept to life with a dazzling array of options, all executed by top entertainers at affordable prices. This can be simple—beautiful background music for a cocktail reception…or informal as The Ragtime Ramblers for an old-fashioned ice cream social…fun, with stilt-walkers, magicians or face painters to spice up the activity…or intriguing—a black tie benefit with cocktail ensembles in varied locations and a major headliner on the main stage, followed by dancing to the acclaimed Dave Ivaz Orchestra.

Endless options are yours—bring them to life with Dave Ivaz Music.