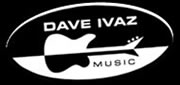 The videos you're watching and audio you hear were recorded completely live at the events shown




We are known for outstanding performances, incredible variety and—equally important—impeccable sound quality that is always "just right" for the venue and occasion.




Our expert engineer is included in our package price, to best serve your needs.
Dave Ivaz Orchestra - Live Entertainment



Let's go to a party...

We guarantee you an incredible party—elegant... exciting…extraordinary. Quite simply, we love what we do. And the fun onstage is contagious. Knowing just how to keep the dance floor full is part intuition, part science—and all the more reason why proven expertise is crucial.

Dave's extensive expertise is your advantage. We are sought out by those who demand more than the standard "dance orchestra" repertoire—and a great band that skillfully handles a wide range of styles.

Everything you see and hear in these video clips was recorded completely live at the events shown. We invite you to enjoy our full DVD, available upon request.

We hope you enjoy our video samples! Juck click on the song name or preview image below, to start one of the videos. There mey be some buffering time, depending on your internet speed. If the video doesn't open, you may have to configure your browser to allow pop-ups on this site.