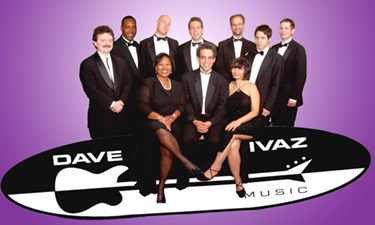 The Dave Ivaz Orchestra delivers a repertoire that offers more.

Sure, we play the "classics," from society standards and swing to Motown, disco, pop chart toppers and latin dance favorites.

But we also perform a large selection of classic and alternative rock – both danceable and quiet dinner music selections – not usually found on dance orchestra play lists.

We go the extra mile for you, delivering the highest level of personalized service. Need help with planning? We work with you every step of the way to make your event extraordinary.




Midwest United States • Pacific NW & Western Washington • British Columbia, Canada


Dream-come-true wedding ceremonies…
Driving dance music to rock the house. The Dave Ivaz Orchestra does it all…

Impeccable service & extraordinary music for exceptional corporate events, and fundraisers. We also offer theme-specific performers…



Congrats to Harrison Ivaz Band on being chosen to participate in Vancouver's Railway Stage & Beer Cafe "Best In Vancouver 2017" band competition! And big congrats to Dave Ivaz Music vocalist Earl E. Soul and his Next Movement bandmates in Las Vegas for being awarded the prestigious Dream Award in Las Vegas in October. Earl is still styling' with the Dave Ivaz Orchestra and joins the DIO Chicago in August 2018 at the wedding of Chicago sound engineer James O'Neill and Claire Sullivan. Dave heads to Chicago in March 2018 to join DIO Chicago keyboardist and Billy-Elton bandleader Reid Spears at his annual Nequa Valley Benefit Concert.

The DIO NW (Vancouver) has great availability for 2017-2018; give us a call.

We're taking Pacific NW and Chicago bookings for 2017 and 2018 and hope to hear from you! Visit us on Dave Ivaz Music Facebook and "like" our page for special discounts on your event!

Dave Ivaz Music NW and Dave Ivaz Music Lessons "Rock Club" is now serving Western Washington as well as Vancouver, BC and the Lower Mainland!


Visit our other bands…
Rock classics by Human Jukebox.
Dixieland jazz by The Ragtime Ramblers.
Simcha music by Yom Chadash.